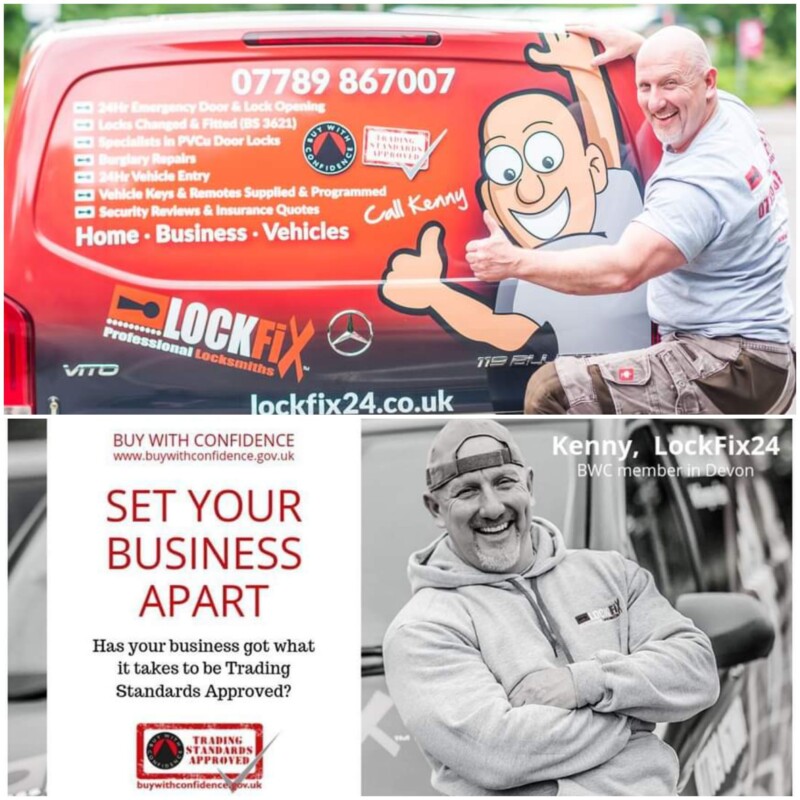 Trading Standards Approved Exeter Locksmith
I have been a member of the Trading Standards Buy With Confidence Southwest Scheme in Exeter Devon for the past five years and I still believe it to be the best scheme available to local locksmiths in Exeter, in fact any tradesman looking to give a trusting and credible offering to their customers. I always try and treat my customers in a manner that I would expect to be treated, with honesty and integrity.
Here is what Trading Standards (Click here for more info) have had to say when my business LOCKFiX Exeter's Professional Locksmiths, was recently nominated as Trading Standards Buy With Confidence Scheme(Click here for more info) member of the month.
''LOCKFiX24 are professional locksmiths based in Exeter, Devon. Established in 1999, they have been serving thousands of happy customers in and around the Exeter area, 24 hours a day, 365 days a year. Owned and run by Kenny Howell, who previously served many years in HM Forces as a Royal Military Police Officer, LOCKFiX24 provides an extensive range of professional domestic, commercial and automobile locksmith services.
Kenny says: "Locked out or just looking to have your locks changed? Or simply in need of a new car key remote? Whatever your key or lock problem, wherever it may be - your home, place of work, or your beloved car, we will be happy to help!" Customers are Kenny's number one priority, and he is proud to be able to offer a 24 hour professional locksmith service to both businesses and the general public. He says: "If you find yourself locked out of your home or place of work, I'll quickly come to the rescue no matter the hour, without any fuss.
"I also offer a specialist comprehensive UPVC Lock service ( Click here for more info) for all your door and window requirements, so if you have problems with sticking or jammed UPVC doors or windows and are in need of a new or replacement lock, I have the knowledge and skills to help you out. I offer a 30 to 90 minute response window and can attend to your emergency promptly should you have misplaced your keys or suffered a break in.
"During my time in Armed Forces serving in the Military Police, our Corps Motto was 'Exemplo Ducemus', Latin for 'By example, shall we lead'. Basically, I try every day to conduct my business with this in mind. I always try to treat my customers in the manner I would expect to be treated, with honesty and integrity. Being part of Trading Standards Buy With Confidence means I am part of a scheme that shares the same values as myself, and makes for a trusting and credible offering for my customers."
Do you want to know what customers say about this company? Visit its BWC profile here: (https://www.buywithconfidence.gov.uk/pro.../lockfix24/16611/)
More information about LOCKFiX24 can be found on its website: https://www.lockfix24.co.uk/